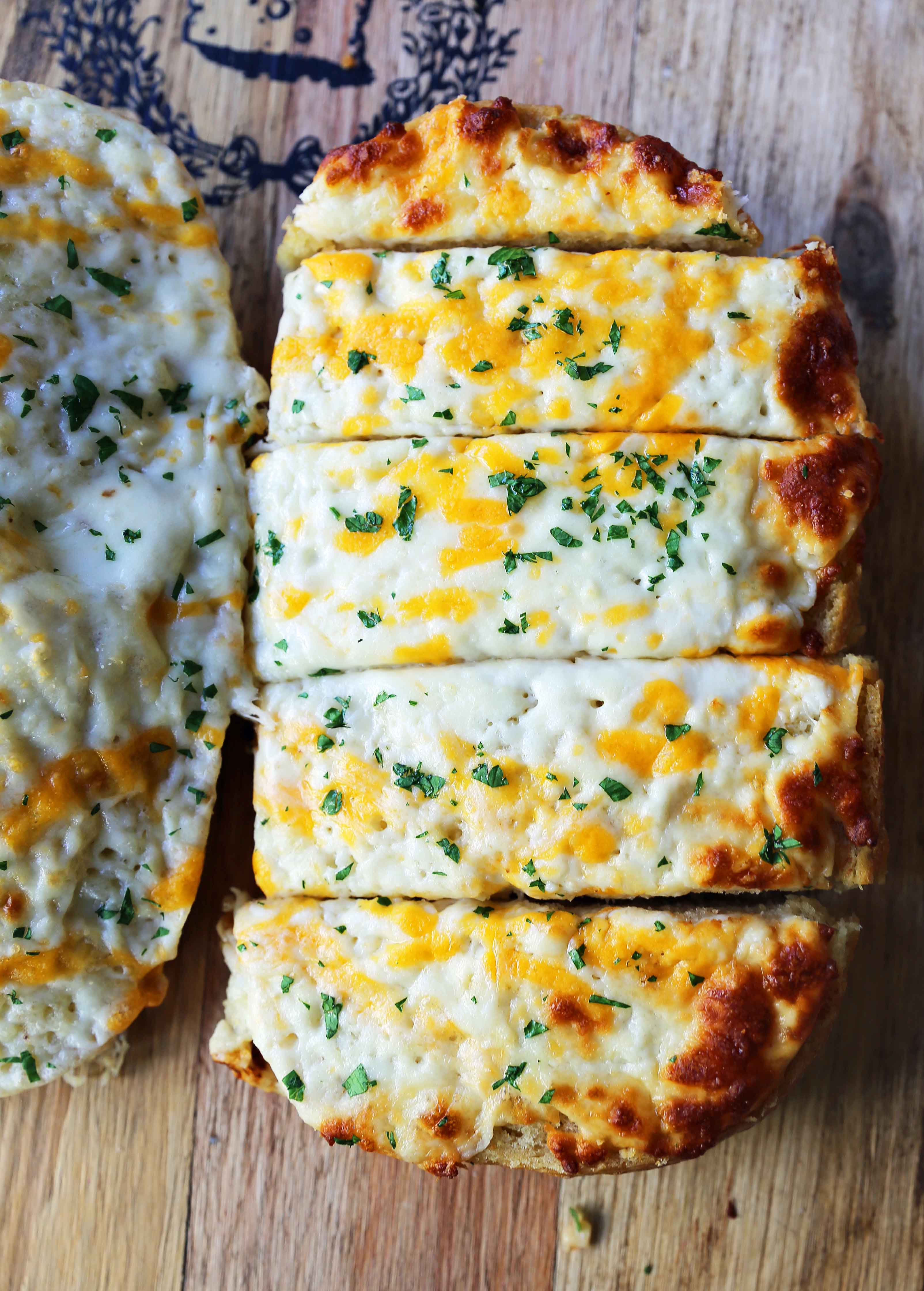 Quick and Easy Garlic Cheese Bread
Warm bread toasted and slathered with garlic butter and melted ooey gooey cheese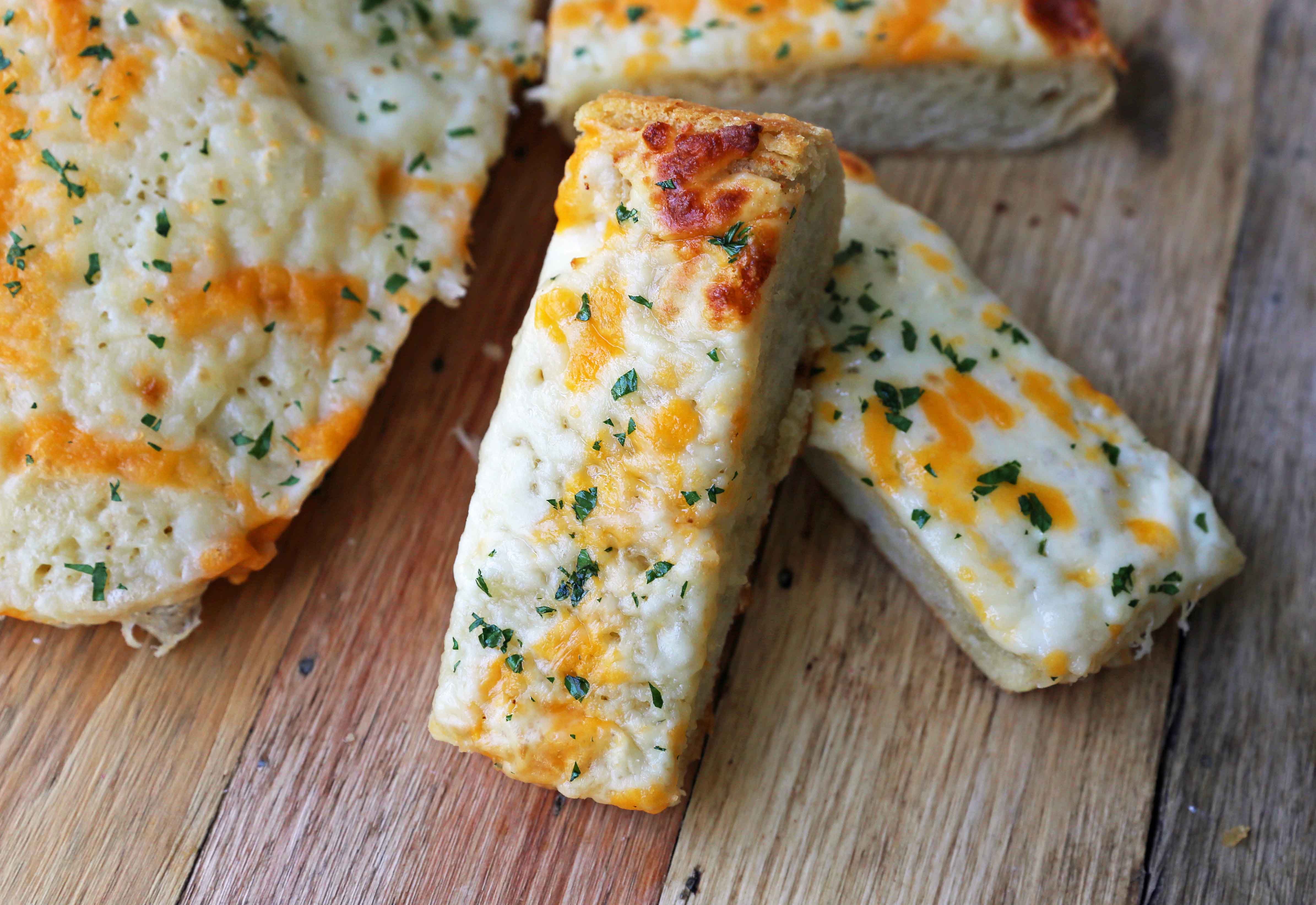 If I could have one cheat meal it would include a big slab of garlic cheese bread and chocolate chip cookies. There's just something so satisfying about a piece of warm bread slathered in garlic butter with melted ooey gooey cheese.
This is a quick and easy appetizer or side dish that goes along with spaghetti and meatballs or a rich, creamy soup. This is the best cheese bread recipe and is so versatile! You can customize it by using your favorite cheeses.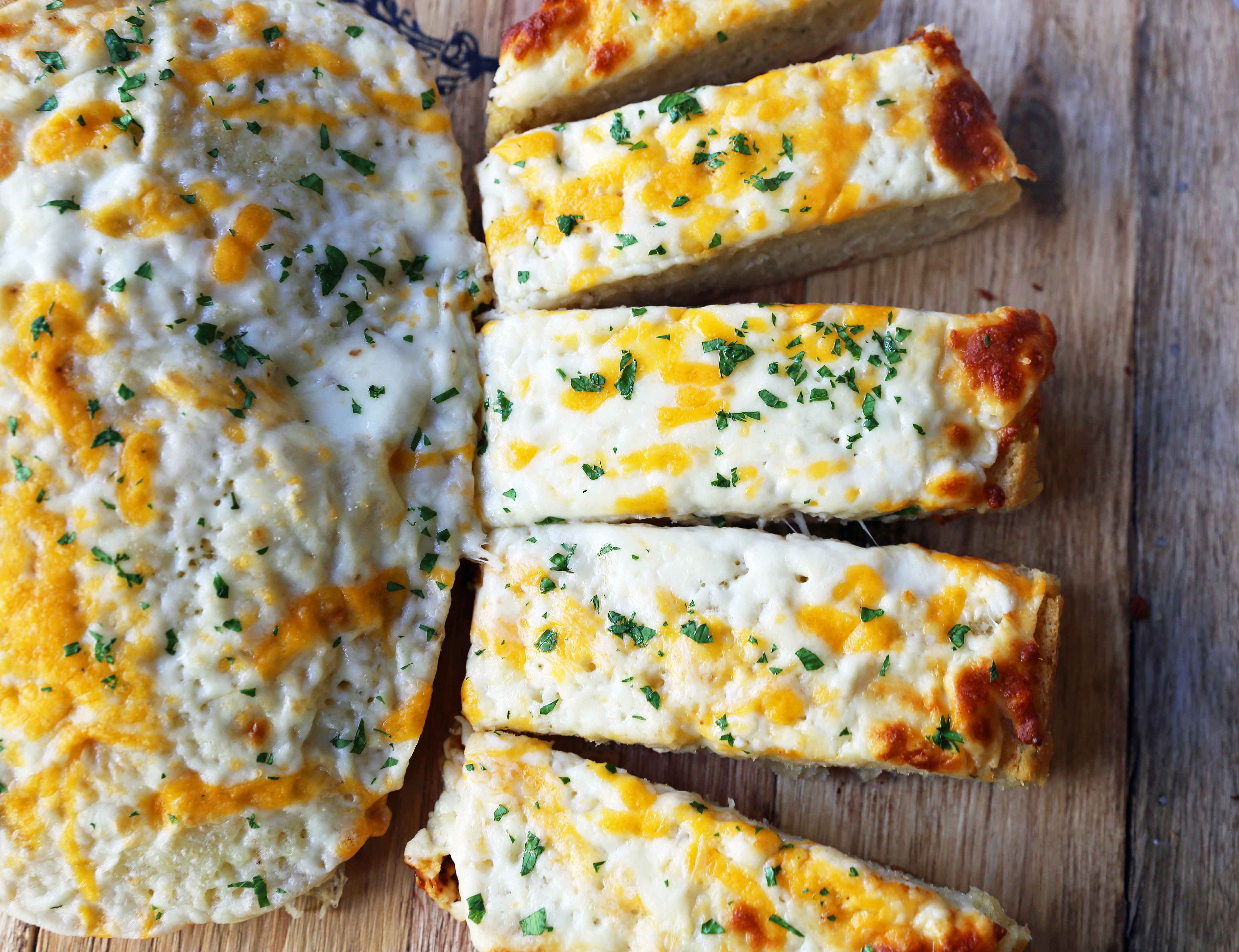 How to make the Best Garlic Cheese Bread:
Start with a loaf of French or Ciabatta Bread. I usually pick up La Brea Bakery French bread from my local Fry's.  It is a combination of hearty crusty exterior and soft chewy interior.
Make Garlic Butter. Melt the butter until completely melted. Add fresh garlic or garlic powder.  Slather all over the bread, covering it completely.
Bake until warm and toasted.  Then sprinkle with cheese and return to oven to melt the cheese.  You can use a combination of cheeses — mozzarella, cheddar, and parmesan. I usually use mostly mozzarella with a touch of sharp cheddar for a burst of flavor.
Sprinkle with fresh chopped Italian parsley. Cut into slices and serve while hot.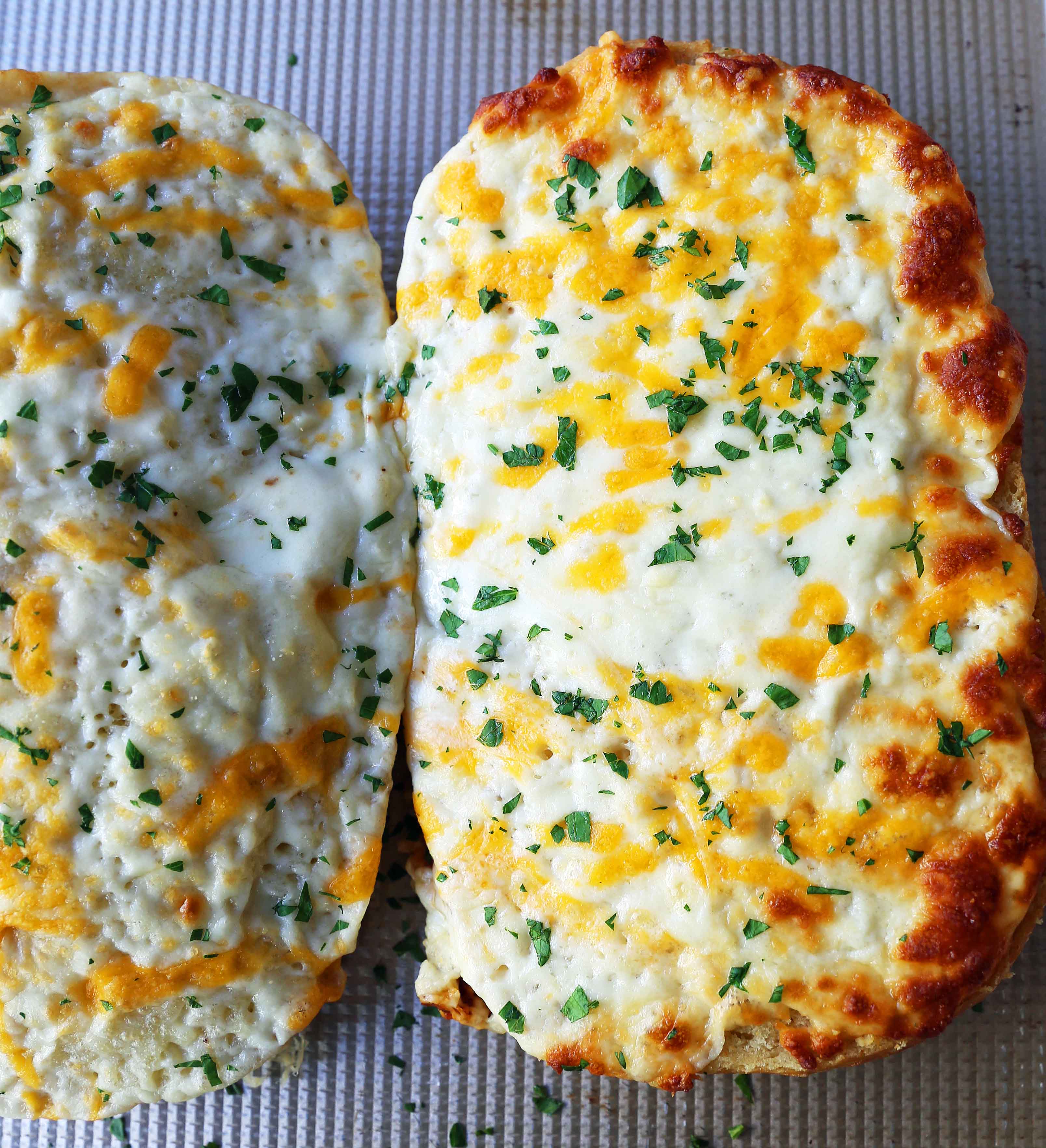 MODERN HONEY SOUP RECIPES:
Zuppa Toscana Soup (Olive Garden copycat)
Creamy Tomato Basil Soup
Baked Potato Soup
Creamy Sausage Tortellini Soup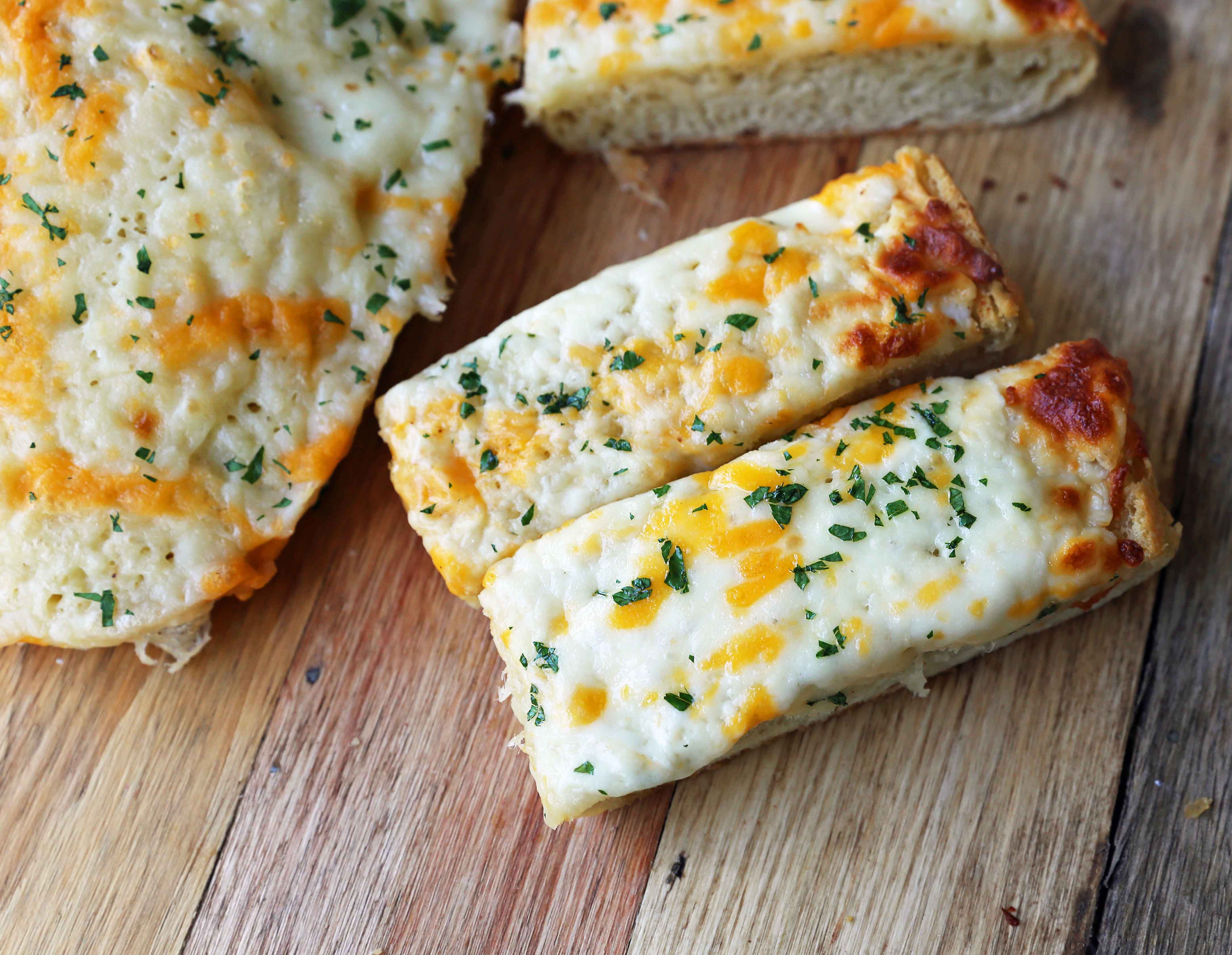 I love to hear from you! If you make this recipe, please be sure to leave a comment and give this recipe a rating. Sign up for my newsletter below so you never miss a recipe. Thank you for following along! I truly do have the greatest readers. FOLLOW ME ON:   INSTAGRAM — FACEBOOK — PINTEREST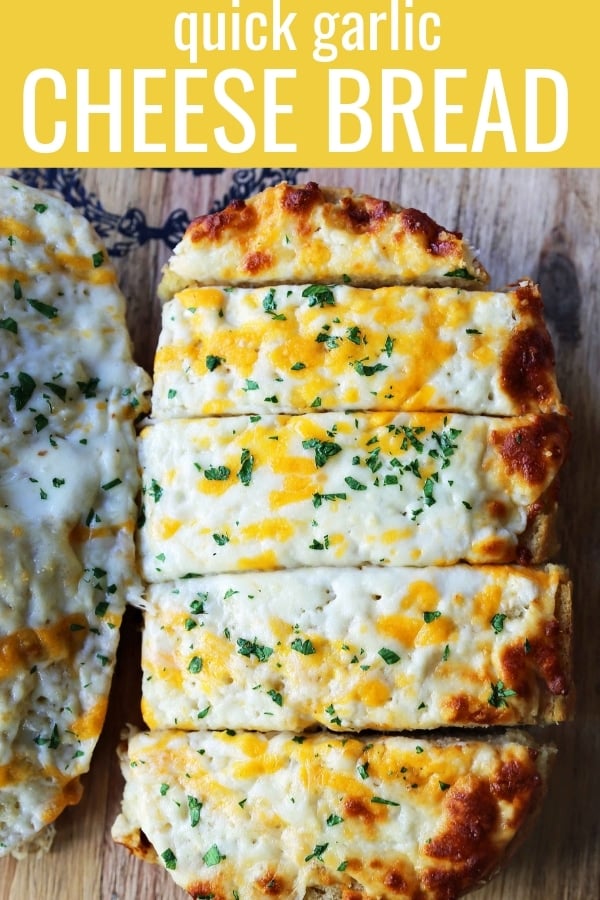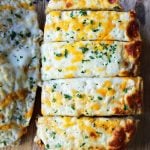 Quick Garlic Cheese Bread
Quick and Easy Garlic Cheese Bread. Warm bread toasted and slathered with garlic butter and melted ooey gooey cheese. Garlic Cheese Bread is the perfect side dish or appetizer. 
Course: Appetizer, Side Dish
Cuisine: American
Keyword: garlic cheese bread
Servings: 16
Ingredients
1

loaf

French or Ciabatta Bread

(cut into half lengthwise)

1/2

cup

Salted Butter

(melted)

1/2

teaspoon

Garlic Powder

(or 4 cloves garlic, finely minced)

2

cups

Mozzarella Cheese

(grated)

1/2

cup

Cheddar or Parmesan Cheese

(grated)

Fresh Parsley

(finely diced)
Instructions
Preheat oven to 325 degrees. Cut French Bread in half, lengthwise. 

In a small microwave-safe bowl, melt butter in the microwave. Stir in garlic powder or garlic.  Place the bread on a baking sheet. Spread garlic butter over the bread, making sure to cover it completely.  

Bake for 15-20 minutes or until bread starts to become toasted. Remove from the oven and sprinkle with cheese. Change the temperature of the oven to 375 degrees. 

Return to the oven and cook for 6-8 minutes longer, or until the cheese is completely melted and bubbly.  

Remove from the oven and cut into slices. Sprinkle with fresh parsley, if so desired. Serve hot. 
Related